Did you know we have less than THREE DAYS left 'til 2016?
We know, we know. That probably sounds a bit extreme. However, let's face it, when you eliminate the weeks which surround Christmas and New Year's, we are already down to less than TWO weeks. Then, just like we have always done in years past, ExpandaBrand will be shutting down our factory operations over the holidays for our annual maintenance (as well as giving our hardworking staff at that facility some well-earned time with their loved ones). So, effectively, these are the final THREE DAYS to place orders for any and all branding which requires delivery prior to the end of 2016  (we agree, it doesn't even feel natural to merely write the year, much less plan for it). In fact, this week is your last chance to place your order for any branding needed on or before January 20th, 2016.
Needless to say, our normal turnaround times have been slightly adjusted for all items which need to be in your hands between now and the beginning of February 2016. We've included a helpful cheat sheet to use as a guideline when planning the timing for your upcoming needs.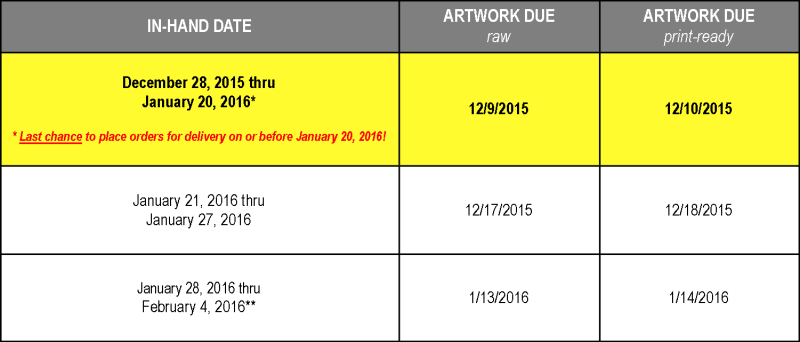 We always recommend calling us directly to confirm details as every project is different and we want to be sure we are working with you to meet your deadlines. And, of course, never hesitate to let us know if you need a hard copy of our catalog, spec sheets, artwork or any help with creative direction.
CLICK HERE to request additional info (including the artwork due dates specifically for your deadlines)
CLICK HERE to download a digital catalog.