Standout at Large Events and Tailgates with Giant Custom Inflatables
'Tis the Season for Custom Inflatables
The holiday event season is coming! While the holidays offer people a time to unwind and reconnect with family and friends, the event industry shifts into a new gear. In doing so, event coordinators and brand marketers are constantly trying to find new ways to stand out during the gauntlet of holidays that includes Thanksgiving and Christmas. Here's some pretty compelling reasons to consider custom inflatables for your next holiday event:
Events that Thrive with Custom Inflatables
Custom Inflatables bring your holiday presence to life at large events.
Custom inflatables provide a quick and easy solution for a dull and underwhelming event set-up. Whether your business is hosting an event, or activating during a tradeshow, custom inflatables help add a memorable element to your brand. During the holidays, custom inflatables can help captivate an audience and create a lasting memory of how your brand handled the holiday!
For example, if you were to drive through a neighborhood during Halloween, you're more likely to remember the house with the spooky decorations and a giant ghost inflatable on their roof, right? The same can be said for businesses and brands in the event industry.
As an added benefit, our custom inflatables are quick and easy to install and offer supreme durability, which allows you to cut your yearly holiday décor budget down a size!
Tailgating Done Right!
Tailgating with Giant Custom Inflatables.
During the months of October, November, and December, holidays aren't the only reason for large crowds. In fact, these months represent the height of many sports in the United States, including:
High school football, including homecoming events and pep rallies.
College Football Gamedays
The NFL Regular Season & Playoffs
The MLB Postseason
With all these sporting events comes one of America's favorite past times – tailgating. And with tailgating, comes event activations for companies and brands alike! Here's a few ideas for your business to stand out during these sporting events:
Giant Holiday Mascots.
To capitalize on this market, you want to stand out in a way that appeals to the fan bases of these teams, while maintaining a touch of holiday spirit. With our custom inflatables, you can create any design you can think of. Whether that's an inflatable mascot with a Santa hat, or a spooky gazebo topped with a 6-foot Jack-o-Lantern wearing a football helmet, the options are endless!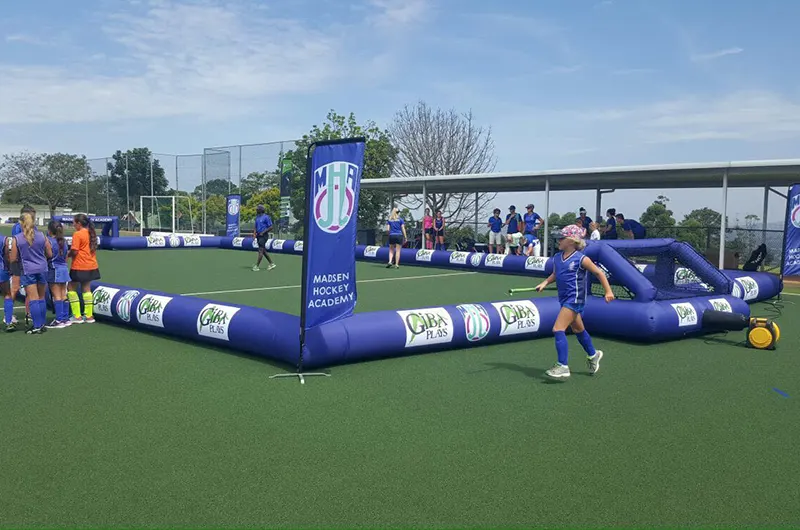 Interactive Inflatables.
In addition, ExpandaBrand offers customized inflatables that add an engaging element to your brand's event set-up. For example, a huge soccer goal for fans to interact with during gameday tailgates. This brings the crowd together, and fuels some light-hearted competition that will help your brand stand out!
Inflatables for 5K's and Other Large Holiday Events
During the final months of the year, many companies and organizations play a role in large, holiday-specific events. Whether through sponsorship opportunities, or event hosting, these organizations typically aim to be seen by the masses at events such as:
Seasonal & Holiday-Inspired Races (5Ks, Boston Marathon, Local Boulder Dash, etc.)
Holiday Parades (Macy's Thanksgiving Day Parade, etc.)
Other Large-Scale Holiday Events
These events, such as the Thanksgiving Turkey Trots, local Christmas parades, or holiday festivals, provide an opportunity to convert crowds into customers. To do so, companies must focus on an added emphasis on successful and memorable branding.
ExpandaBrand's event inflatables offer the perfect option to stand out in a crowd! From inflatable archways and columns, to air dancers and soccer goals, we have options that will all but guarantee a memorable and visually appealing event set-up.
ExpandaBrand, known for their outdoor event signage and eco-friendly approach to product development, is an award-winning organization that works closely with sports marketing, experiential marketing, active and sustainability-conscious consumers, and environmentally friendly corporations committed to corporate responsibility. Expand a Brand, who serves the U.S. market, is a subsidiary of Expand a Sign International, based in Durban, South Africa, and is one of 20 outdoor event signage offices around the world.
Contact us to discuss how we can bring impact to your brand!